First Home Buyers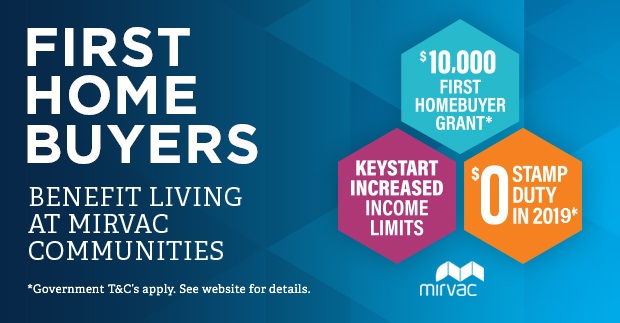 ---
First Home Owners Grant
If you're building your first home, you may qualify for the First Home Owner Grant (FHOG), which is a one-off payment of $10,000 from the Western Australian Government. Your Mirvac sales consultant can provide you with more information about the application process.
Stamp Duty Concession
The Western Australian Government also provides generous stamp duty concessions for first home buyers purchasing vacant land. That means if you buy a vacant homesite at One71 Baldivis for up to $300,000, you'll pay no stamp duty and save almost $9,000.
Getting Pre-approved Finance
To speed up the buying process, get your finance pre-approved and ask for a letter confirming the amount you can borrow. There are numerous finance options to choose from, depending on your income and deposit. Speak to your bank home lender or mortgage broker to find the right loan for you.
Selecting Land
Make the time to visit One71 Baldivis and experience the many benefits of living in this vibrant and growing community. While you're there, your Mirvac sales consultant will answer all of your questions and help you select a land lot for your home that suits your lifestyle and budget.
Titled or Untitled Land
Put simply, a land title is a legal document that specifies the legal description and owner of a piece of land. If the land you select at One71 Baldivis is untitled, your Mirvac sales consultant will let you know when the title is due to be issued so settlement can take place.
Choosing a Settlement Agent/Solicitor
Settlement is the process by which the land title is transferred into your name. The process can be complex and time consuming, so you'll need to choose a settlement agent/solicitor to take care of all the necessary paperwork.
Purchasing your Land
In order to purchase your preferred land lot at One71 Baldivis, you'll need to complete an offer and acceptance contract with your Mirvac sales consultant. At this point, please bring along your finance pre-approval letter, settlement agent's details and a $1,000 deposit that will be held in trust until settlement.
Choosing a Builder
Choosing a builder and home design is one of the most exciting parts of the buying process. When comparing builders and designs, make sure you take into consideration the dimensions and orientation of your land lot as well as the design guidelines for One71 Baldivis.
For more information and to help you get on your way, view our first home buyers brochure here.